Here is the the new printed circuit board or PCB to be used with the 9x (FS-TH9X),
i just installed the ER9X with the smartieparts board
SmartieParts board :
http://www.smartieparts.com/shop/index. ... e90330d381
& i would like to have external
impressions on the ERSKY9X Hardware & Firmware.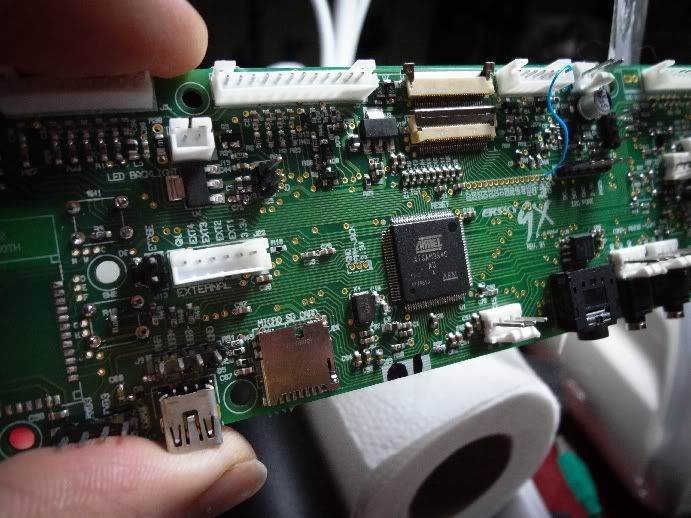 Here is the Rev B1 version of the ERSKY9x board.
It uses a larger TO220 style 3.3V regulator , to allow for better heat dissipation
when using 3S lipos .
It is designed to replace the main control board in the 9x radio.
It runs a new version of the ER9x and Open9x software.
Developed for the ARM microprocessor
It has a SAM3S ARM microprocessor , with 256K Eprom , 48K Ram
and adjustable clock up to 64Mhz
4Mb SPI EEPROM for model storage.
Each model has 4K of storage space
So there is room for around 40 models , before using the Mini SD card.
Upgrade socket for better quality , easier to read LCD
DAC sound support with digital volume control
and 3/4Watt audio amp , with 8 ohm speaker and headphone jack output.
2.5mm stereo jack for external access of COM ports.
3.5mm headphone jack , with auto speaker cutoff.
Built in USB port for program upgrades , and computer access
High speed Micro SD card socket , for model and sound storage , telemetry logging?
Third Serial Com Port , for RN-42 Bluetooth module hookup.
Easy hookup for telemetry with built in RS232 converters
Haptic output connector.
Dimmable On/Off LED backlight control
External input for Rotary encoder.
External I2C port , will allow for addition on second LCD display (100x160x16)
ATtiny167 AVR Co-processor - provides 12 inputs/outputs.
For example ... 4 more A/D channels , 2 rotary encoders and Two , 3 way switches.
Can also be set up to act as RTC (Real Time Clock) with battery backup.
5volt power output
Current sensor monitors current draw from the battery , and stores Battery usage.
Soft power-off circuit , makes sure that the radio has saved all settings before
powering off.
The Board will sell for $95 and come with a small 8 ohm speaker and wire harness.
it keeps being upgraded just like the firmware giving it endless possibilities.
ERSKY9X :
http://9xforums.com/forum/viewtopic.php?f=7&t=525