OK, I've just finished fitting both the new FrSky dui kit that comes with a 3 position switch, together with the SmartyParts programming board, mini usb connector and backlight panel.
First off, the RC Model Reviews video for the FrSky dui kit is no longer quite correct with this unit. The reason is firstly that you have to mount that switch somewhere convenient, yet out of the way and, most annoying of all, the bind button and led panel no longer fits one the top in front of the antenna, because they have wired the connector leads on the top of the board, not underneath and they get in the way. I forgot to take a photo showing how they just make it a pain to fit on top of the Tx (unless you unsolder them and reconnect the wires underneath the board). I said bugger it and mounted the board smack in the front of my 9X (in the do-nothing grill).
Easy to see and not too bodgy.
The switch was harder to mount, as I wanted to see it too make sure it was set right and there is really no easy place. There is
just
enough room to mount it on one side of the antenna at the top (right in my case) though it rubs right up against a mounting pillar and it fitted on a curved section of the case, so, not as easy as it looks.
Anyway, heart in hand I switched it all on and... ta da! It worked and bound nicely with the Rx.
The new layout...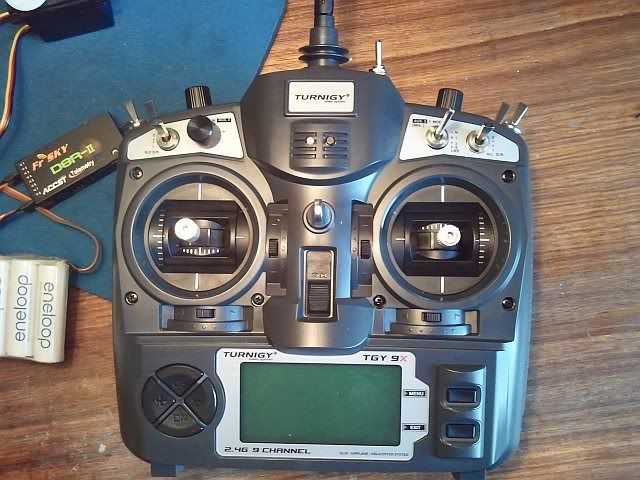 Just have to update the firmware now.