Since I'll be by myself when I maiden the phoenix and axn, I thought I'd set myself up to take some video. I'll have a key-chain camera on the planes, but I also wanted some ground footage of them in the air. So here's a different "first person view".
Using Mrs Sid's camera (mine are too heavy) this will allow me to zoom in up to 4x and so see the model better. I tested out my aim just now and, after a bit of trial and error, it works quite well tracking cars on the road and birds in flight. I was going to rig up a wire frame " viewfinder" for one eye, under the peak, but I don't think I need it.
Looks right daft though.
Just a 1/4" camera mount screw.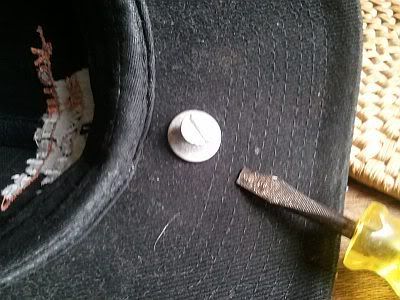 Proper union ball cap.